ATHENS

PANATHENAIC STADIUM

Remodelling of the Panathenian Stadium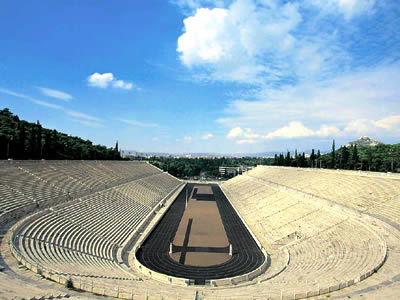 Vas. Konstantinou Ave, Athens, 1896

Architect: Anastasios Metaxas (1863-1937)

The Panathenian Statium, one of the most significant remodelled historic monuments of Athens, is on Ardettos Hill. It is reported that Lycurgus (330-336 BC) created a place for athletic meets on this site near the Ilissus River with wooden seats for the lords. The public sat on the rocks. In 131 BC, Herod Atticus built a regular stadium on the site with a capacity of some 50,000 spectators. Marble predominated and the seats were in two sections, with 23 rows of seats each. The building was then abandoned and the marble used to construct other edifices. In 1894, when Athens undertook to host the revival of the Olympic Games, it was decided to rebuild the stadium which was to be financed by a nationwide fund-raising campaign. The contribution of Greeks abroad, and in particular of Georgios Averoff, was significant to the success of this campaign.

The plans drawn up by the distinguished architect Anastasios Metaxas for the new stadium were based on the excavations of Ernst Ziller that had begun in 1873. About 550 workers contributed to building the "Kallimarmaro" stadium.

Up to the inauguration of the First Olympic Games on 25 March 1986, only the first four rows had been covered with marble, and the rest of the seats were wooden. A clever move was to paint the wooden benches white, so that there would be no disharmony with the marble ones. And, instead of a parapet and porch, wooden platforms were installed on which were placed plaster copies of ancient sculptures. Five bridges were built over the Ilissus River, and six entrances to the Panathenian Stadium: one from each side, two in the wings of the Stadium and one on the end. It also had 60 rows of seats divided into two sections, an upper and lower. Work on what is called today the Kallimarmaro stadium continued right after the end of the 1896 Olympic Games and was completed in 1906, in time for the intermediate Games. Marble was used everywhere. Dressing rooms for the athletes were built, as well as storerooms for the sporting goods, water pipes, WCs and other ancillary areas. A little earlier the Propylaea was completed, an imposing marble structure serving as an entrance gate to the Stadium, which with some minor changes, took on the form it has today.